Miss layouts? Me too! :)
Impressions of Delight is available at SBG now.
Created by fifteen of our designers (Baers Garten Designs, Berna Datema, Doris Castle, Ellie Lash, Flergs, Franziska Altmann, Helene Douchet, Hillary Heidelberg, Jan Hosford, Lorie Davison, Manuela Zimmerman, mgl Scraps, Phuong Ton, Tangie Baxter, and Wendyzine Scraps), this collection of over 600 MB of goodies will have you scrapping for hours!
Click
HERE
for tons of gorgeous layouts using this kit. These layouts are just too cute!
Here are some of my team's layouts using this mega collab:
By Danesa,
by Helene, this is not classical Helene, but I LOVE it!
If you haven't already checked out Helene's store, take a peek
HERE
! :)
by Leda,
by Lilja,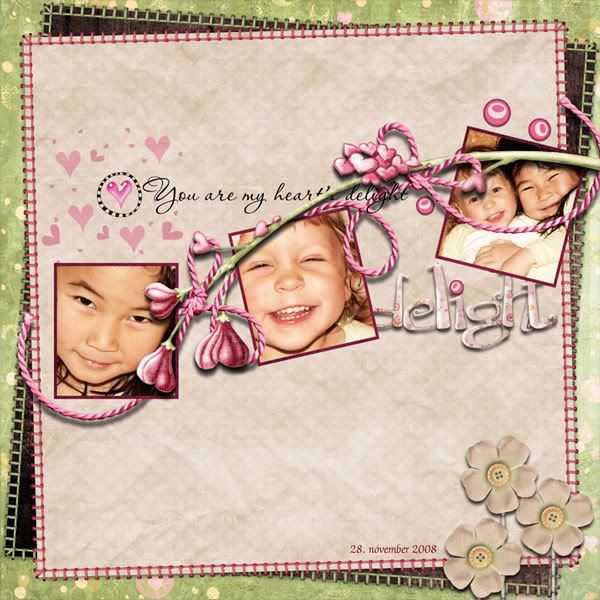 by Miranda. Miranda is also a designer. Check her
blog
for her cute kit previews and other fun stuff.
Some layouts with Mood for Love:
by Danesa,
by Gislaine,
by Leda,
by Kristi,
Thank you gals! :)
I found these while browsing the SBG gallery and blog.
This one is by
LynnZ
. She is a really awesome scrapper.
These I found on the
SBG blog
by the oh so talented SBG crew. Thank you thank you ladies.
This one is by Jenn using By the Sea and the Sand Alpha.
This is by Melissa (Miss Behaving). Wow! Right? Totally wow. She created these amazing scenes. I just LOVE it!
http://www.scrapbookgraphics.com/wordpress/?m=200901
CREDITS: Mood for Love Collab by Phuong Ton and Microferk; Phuong's Serenity and Orchid Dreams - The Reawakening and The Beginning;Wordart - Natali Designs' Playing With Word Art Vol 8
This one is by Novita. Okay, how cute are those pictures!
CREDITS:
Phuong Ton's By The Sea; Birgit Kerr's Date Pins and Worn Label Alphas; Bluebell Design's Grungy metal alpha. Font: DJB MANDY by Darcy Baldwin, JMLetter, CAC Leslie
Here is one by Jenna, fun fun fun.
CREDITS: Phuong's By the Sea and various flowers and elements from Phuong's Orchid Dreams Reawakening and Natali's Playing with Word Art vol.8. Fonts: Another Typewriter, Arid ITC and Children's Play.
There are so many more layouts that are just as amazing. Please drop by
Blog
sometime and check them out. Please leave them some love too! :)
You also have to check this cool one by Ikscrap. She is a really amazing scrapper. I would post her DST gallery but I can't get to DST right now so I'm linking you to her
SBG gallery
.