I have to say that I've been feeling quite lucky lately. I had an opportunity to work with two wonderfully talented designers,
JenU Designs
and
Microferk Designs
.
They have an amazing collection of products that I've oohed and ahhed over for while now. JenU has gorgeous natural elements, yummy flowers, totally cool kits, and of course I am a die hard fan of her Quick Pages. Miki has amazing vibrant kits bursting with color, unique hand-crafted elements. Ah, I love flowers, I love color, I am just in love.
I am so proud to present you two new collaborations available exclusively at Scrapbook Graphics for a limited time!
They are 25% off through the weekend plus take an extra 10% with coupon code "MyFriends". I know there was an issue with the coupon on DSD but I triple checked it and some this time!
So you want to see the kits right?
I teamed up with the wonderfully talented JenU Designs to bring you this fabulously gorgeous winter kit, "Knocking on Winter's Door", yup door and windows are included.
This huge collaboration kit has 30 papers, over 120 elements, and 3 different alphas.
There is a bonus snowy overlay as well as a gorgeous quick page.
It is filled with unique and versatile elements and beautifully textured papers. This kit is jam packed with everything that you'll want to use over and over. It's a little bit sparkly with plenty of realistic winter elements and some earthy touches. Flowers, twigs, leaves, tons of snowflakes and other snowy pieces are just a few of the wonderful wintery things you will find inside. We've even included a warm cup of hot cocoa for you.
I've also teamed up with the talented Microferk Designs to bring you this wonderfully warm Holiday Collaboration.
The holiday season is packed to the brim with rich tradition and luscious treats and dazzling colors!
Imagine the spectacular Christmas tree, adorned with garland and dazzling ornaments..... or the fireplace with a gentle fire and stockings hung with great care and hopes.....the carefully wrapped, gifts- in jewel tone papers with crisp shiny ribbons and bows.....silver starlight..... a warm fire's golden glow..... the aroma of freshly baked cookies and fresh mint of canycanes.....Santa's sack- filled with all of the childhood hopes and dreams, and a glimpse of that velvety hat....a pine tree branch, or a sprig of mistletoe and holly.....all of these, and more, are YOURS in "Holiday Shimmer".
Based on a vibrant palette of garnet, cranberry, gold, turquoise, amethyst, indigo and cream- with a generous shimmer of the precious metals of gold and silver, you get a mega-kit that will soon become your staple, *go-to* Holiday kit!
Each element and alpha character is in its own file- no need to 'cut' apart. All elements and papers are created at 300ppi, with papers saved as high-resolution jpgs for stunning print clarity, and elements saved as png files to preserve transparency. Drop shadows are only applied in instances where layering of pieces within an element necessitate shadowing for realism.
You get an amazing 39 papers, 3 overlays and over 100 unqiue elements! You also get FOUR separate and unique alpha sets, and a BONUS Quick Page.
Did you say you wanted to see layouts? Of course! :)
Here is one close-up by Kristi. I'll post the other ones in the thumb later.
Some Holiday Shimmer layouts!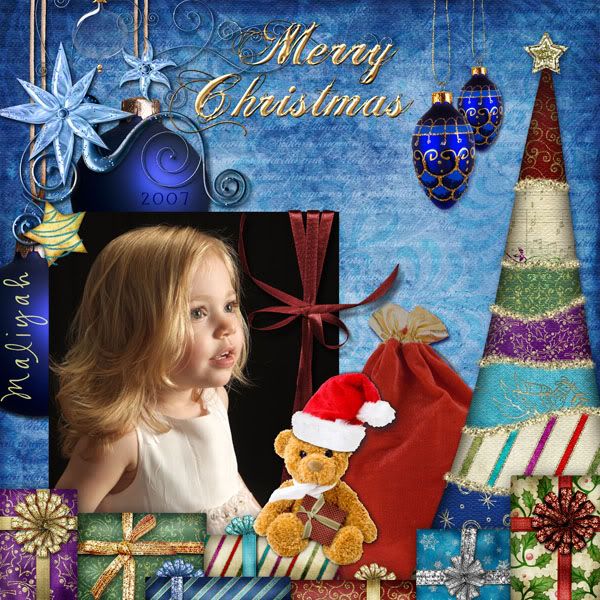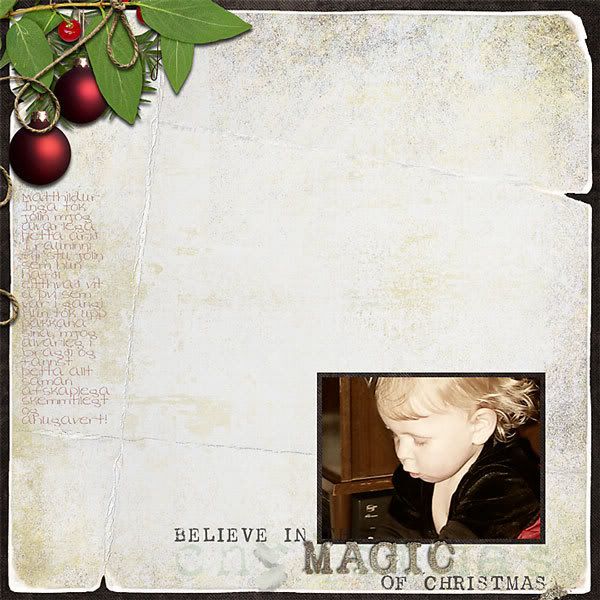 Word Art by Natali Designs
Yup, the mistletoe is part of the kit! Okay enough layouts for today. Come back for more because I have lots more layouts to share! :)